OVERVIEW
The Model SB is a golden version of the Double-Barrel Shotgun. It does deals more damage and has better knock-back than the normal sawed-off. It only has 1 bullet and is chambered with Shells on pickup.It has a distinct noise after firing. The name and location is a reference to the game Square Brawl.
LOCATION
The Model SB is found at the Large Cubes at the north edge of the map.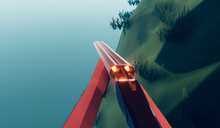 Ad blocker interference detected!
Wikia is a free-to-use site that makes money from advertising. We have a modified experience for viewers using ad blockers

Wikia is not accessible if you've made further modifications. Remove the custom ad blocker rule(s) and the page will load as expected.